How did a small Swedish owned consulting and translation firm get to work with NASA? You guessed it SACC-Texas. We helped with connecting the parties for the live Swedish/English simultaneous translation that took place during the Discovery/ISS 128 flight in September 2009.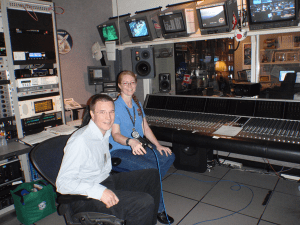 Christer Fuglesang had two Discovery/ISS inflight events involving Swedish translation during his time in space and Westerlund Consulting was there to help both times. The first one took place Friday, September 4, 2009 and the second one took place Monday, September 7, 2009.
This is an excellent example of how SACC TX promotes trade and commerce between the United States and Sweden by providing leadership, guidance and connections within the community to both local and international companies both Swedish and American ones.
Why are you a member of SACC Texas?
Being a member of SACC Texas is priceless says Christopher Westerlund Founder and President of Westerlund Consulting. SACC Texas can connect you or your company with anyone looking for your services or help you promote your business. They can also provide you with excellent networking opportunities and advice on many different levels.
How was it to work with NASA?
The professionalism of the people that you meet at NASA is phenomenal. You also get a feeling that you are working on something that is larger than life and this makes the atmosphere very special. Since there are so many contractors currently working for NASA, you as an outsider are welcomed into the team with open arms.  (Westerlund Consulting was hired by a contractor and work directly with the staff at The Lyndon B. Johnson Space Center.)
How was it to have your voice transmitted live over NASA TV reaching the whole world via the internet?
Sitting in the same complex a few building away from the control room that once put a man on the moon was very exciting and humbling. It was an honor to be able to work with NASA and translate for one of our really great scientists Christer Fuglesang. The research that he conducts in space is priceless and will help us here on earth in many ways that we don't even know yet.  Some of the spinoffs from the space program include: Water Purification Systems, Virtual Reality, Golf Ball Aerodynamics, Fire Resistant material, Breast Cancer Detection, Mircolasers and much more. To be able to be part of this is definitely something that I am proud of.
What parties were involved in the event?
NASA, The European Space Agency and various news media such as SVT, TV4, TT, SR, CBS, Reuter and The Houston Chronicle to name a few.
Did something unexpected happen?
During the first event there was a Norwegian reporter that asked a question in Norwegian. Since I was the only Scandinavian translator I had to translate that as well. Not a big deal but definitely caught me off guard.
Westerlund Consulting can be reached at +1 713 499 9903 or info@westerlundconsulting.com