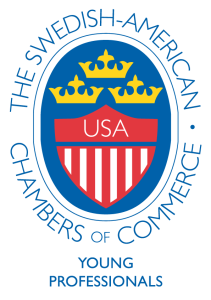 SACC-Texas Young Professionals (YP) is a section of the Swedish-American Chamber of Commerce of Texas. SACC-Texas YP works as a meeting platform for students and professionals in the beginning and midpoint of their career to build personal and professional networks, develop career skills and work with other young leaders to benefit their professional careers.
Membership with SACC-Texas YP is for individuals up to the age of 35 and costs $30/ year. SACC-Texas YP enables you to connect with peers and to network with experienced business professionals involved in Swedish and American business.
The SACC-Texas Mentorship Program offers another opportunity for career development through a mentor-mentee exchange with a seasoned professional. You can read more about our Mentorship Program and other member benefits here.
We are always excited to meet new people and welcome everyone's input and participation in determining the direction of SACC-Texas Young Professionals.
Sign up and become a member of SACC-Texas YP today!
SACC-Texas YP Directors
Rasmus Wendt
SACC-Austin YP Director

Alisha Kornhammar
SACC-Dallas YP Director

alisha.kornhammar@sacctx.com

Brittany Chang
SACC-Dallas YP Director

brittany.chang@sacctx.com