We haven't seen that many Swedish players in the Dallas Stars in the last years, but for the 2014/2015 season there are actually three on the team. SACC-Texas interviewed Dallas Stars goaltender Anders Lindbäck and defensemen John Klingberg and Patrik Nemeth to hear about their background and how they like their new team and home city.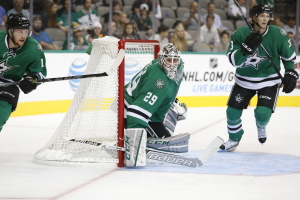 Although they played other sports during their childhood, it might not be surprising to hear that all of the Swedish players on the Dallas Stars started with hockey at a young age. Patrik Nemeth started playing as a five year old, John Klingberg at six and Anders Lindbäck when he was eight years old.
26 year old Lindbäck grew up in the city of Gävle and began his professional career on the SHL team Brynäs IF. He also played in Almtuna IS and Timrå IK before he made it to the US. He has played in the NHL for four seasons starting off with the Nashville Predators and then the Tampa Bay Lightning.
On the question how the NHL differs from the SHL, Lindbäck answers that it is a big difference:
"First of all, the hockey rink is smaller here than in Sweden, but the biggest difference is the higher level of skill and the faster play. Even though the Swedish league holds a good standard, the NHL gathers the best players from the whole world" says Lindbäck.
Klingberg agrees, saying that:
"It's a totally different game here than in Europe. Since the wages are so much higher, the NHL attracts the best players from the whole world"
John Klingberg from Lerum, near Gothenburg, is the newest Swedish player on the Dallas Stars. John comes from a big hockey family with two brothers whom also are also professional hockey players trying to make it to the NHL.
"I've been ice skating for as long as I can remember" says Klingberg, who before he made it to Dallas, played in the SHL on the Frölunda Indians and Skellefteå AIK. He also played a season on the Finish team, Jokerit.
In his first seven games with the Dallas Stars, Klingberg performed very well and recorded a point in each game. His offensive style as a defenseman, he says, could be explained by the fact that he actually was a forward until he was 15 years old. As it turns out, both Klingberg and Patrik Nemeth started out as forwards "I was a big goal maker as a kid," laughs Nemeth.  At the same time as he confesses that he probably would be a terrible offensive player today.
The two 22 year old players, Klingberg and Nemeth, have actually played on the same team in the past.  Both of them were a part of the Swedish U20 team that in 2012 won the World Championships for the first time since 1981.
The Stockholm born Nemeth started his career in the Solna based team AIK, though, and played in SHL with them for two seasons before he joined the Dallas Star's affiliated AHL team, the Texas Stars in Austin.
Last spring Nemeth played his first games with Dallas, but unfortunately this season started in a very disappointing way with a serious accident. A player from the opposing team skated over his arm which caused a very bad cut. All the tendons reaching to his five fingers were sliced, as well as many muscles, but luckily no nerves or bigger veins.  Despite the terrible accident Nemeth is positive about the future. The recovery is going better than first expected and he hopes to be back on the ice this March.
Nemeth also says that he really likes living here in Dallas and being a part of the Dallas Stars:
"Everything is well organized within the Stars and Lindy Ruff is a very experienced coach. Although we have had a couple of bad games behind us, Ruff knows what it takes to win. Dallas is also a good city to live in.  It might not be the biggest hockey town, but that's not a negative thing really" says Nemeth and explains:
"You're not recognized wherever you go, and people don't make a fuss here, which can be pretty nice actually."
Living in Dallas also has other advantages "it is a big city with a lot to do" says Lindbäck. Klingberg agrees and says that the climate with a lot of sun is of course a big plus. "The only minus might be the traffic, but otherwise, Dallas is a great place to be" Lindbäck ends.
Malin Backlund, SACC-Texas