Austin, the capital of Texas, also called the "Silicon Hills", is the place where start-up companies blossom. The business magazine Forbes ranked Austin
as number one amongst 65 city regions in the USA when it comes to creating new job opportunities. One company that has grown rapidly in the past few years is Boundless Network, co-founded by The Swedish American Chamber of Commerce – Austin's Vice President Henrik Johansson.
We meet with Henrik Johansson, originally from Värnamo in Sweden at his office in Downtown Austin. Boundless Network is located in one of Austin's oldest buildings on the famous 6th Street. The energy is positive amongst the friendly staff and we can't help being reminded of a "Google culture" with an area full of snacks and food for everyone. It does not surprise us to hear that Boundless Network was rated one of the best places to work by The Austin Business Journal and Industry publication, Counselor Magazine.
Boundless Network's business model is focused on improving how organizations buy and manage branded merchandise. They help their customers to realize the power in promotions, and use a patented technology platform that connects buyers within and across organizations to create efficiencies of scale and reduce the cost of branded merchandise.
Henrik Johansson has a background as a serial entrepreneur and started his professional career as a management consultant with Andersen Consulting in the U.S. and abroad. Henrik was later the Founder and President of Creditland, an online credit and lending marketplace. Most recently he served as the President of Everyday Wealth, an online financial services company, before founding Boundless Network.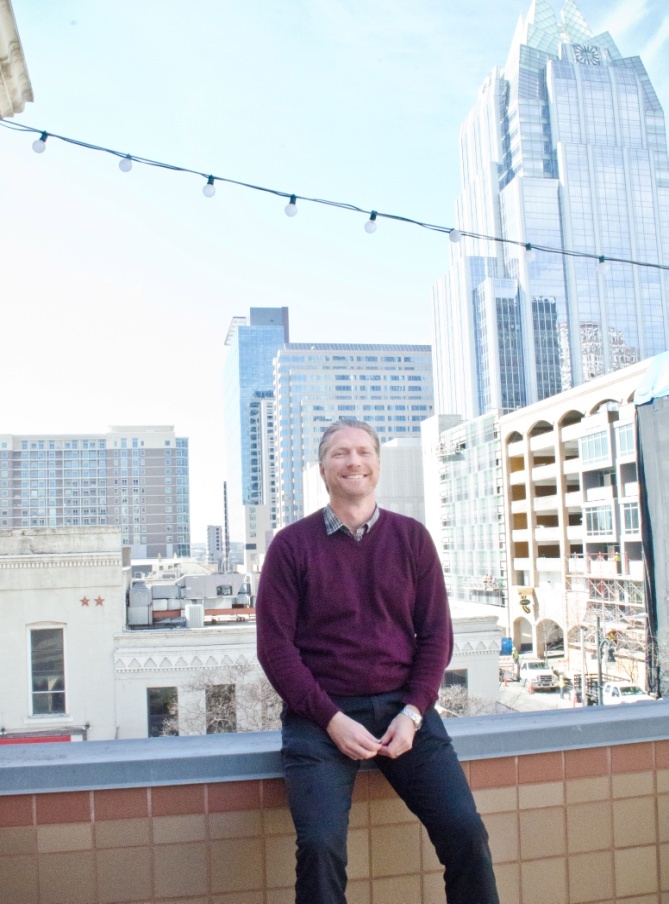 • What brought you to leave Sweden for the USA?
I studied at Linköping Institute of Technology in Sweden where I got a Master of Science inelectrical engineering and engineering physics.  After that I joined the global consulting firm Andersen Consulting in Stockholm. After about 1 1/2 years I got the possibility to come to the United States on a 6 month project in Dallas, but I never moved back.  I transferred to Dallas and later moved to San Francisco with my wife-to-be.
In 1998 I left Andersen Consulting and started my first company called Creditland.com. It was a lending marketplace that allowed consumers to shop online for optimal credit and loans. When the financial crisis came we decided to move to Austin where I became the President for a company called Everyday Wealth before founding Boundless Network in 2005.
• How was Boundless Network born?
I met Jason Black in 2004 and he had the original idea for Boundless.  Jason had worked with promotional products his whole life and realized that the industry was behind in utilizing technology. We put our heads together and started to plan out the right technology solutions to change the industry by making life easier for sales professionals and clients. In 2005 we raised some seed capital and started building the platform nd hiring a sales team.  In 2006 we raised venture capital from Austin Ventures and Silverton Partners which allowed us to further accelerate the growth of the business.
• What are your most important professional achievements within the company?
Boundless Network has grown rapidly. In addition to financial success we have also created a very good culture. We have been voted one of the best places to work in Austin several times. We have managed to create a culture that is at the same time both laid back  and demanding.  We challenge our people and expect them to perform but it is still a relaxed and open work environment.  As a result we've been able to attract a lot of  smart, hardworking people that are also fun to be around.
• What main lessons did you learn on the path to becoming a CEO?
In any startup it is important to recognize that time is your most precious asset. You must focus relentlessly on what's most important at the time and you have to move fast and prioritize things correctly. You have to decide on what you choose to focus on because you can't do everything at the same time. Make sure you have the "right people on the bus" and that you surround yourself around likeminded motivated individuals that you do not have to micromanage. You also have to surround yourself with the right advisors and investors that  help you elevate your game. When you accept other people's money  you must understand what you are signing up for and the expectations that you will need to meet. Venture capital is like rocket fuel. Don't buy rocket fuel if you are not building a rocket!
• What do you hope to accomplish within in 2015?
Boundless Network and the Bay area company Zazzle just merged together and we are very excited about that. It will help us further accelerate our growth and serve our customers better. It will also help us differentiate ourselves from the competition and make our offering unique in the industry.
We also celebrate our 10 year anniversary as a company. I see 2015 as a transition between our first 10 years and our next 10 years.  We have grown up a lot.  We have over 200 team members nationwide and thousands of customers.  We have a great management team and support from an even larger team at Zazzle.  I'm not sure you can call us a startup anymore, we are now a great young high growth company.
• What advice do you give to rising start-up companies in Austin?
Austin is a great place to start a business because there are a lot of people with great knowledge willing to help you. It is a very friendly and open atmosphere in this city and you can ask pretty much anyone to meet you for coffee and advice, and they will likely say yes.  I don't think that is as likely to happen in New York or Silicon Valley. People here want to help out and I encourage anyone to reach out to people with relevant experience. Odds are they would be happy to help you if they can.  For someone still trying to figure out if they should start a business, I encourage them to focus on the customer and to make sure your business idea solves a real problem for consumers or a company. Your product or service should alleviate an existing pain for a well defined target customer, and they have to be willing to pay you for it.  That may sound obvious but many businesses are started without first answering those questions.
• What are the differences between Swedish and American business leadership?
I believe that Swedes in general are more used to consensus management. Some US leaders use more of a "my way or the high way" management style, which I don't think would work well in Sweden. You can build a successful business either way, but the top-down approach is obviously much more reliant on a brilliant leader that has all the answers.  I strive to take a "servant leadership" approach, i.e. I'm there to make sure my team is successful and that they have the resources required to do their job.  As long as you hire the right people and have clear goals that you hold people accountable to, I believe that approach works better. I have probably changed some throughout my professional life so I am not sure if I am very "Swedish" anymore, although I try to keep a lot of Swedish values alive. In Europe maybe the American leadership style can be perceived as rude but I think over here the Swedish leadership style can be viewed as too gentle. In a startup company you can't afford to have people around that are not self starters and get stuff done. To fire people is much harder in Sweden, which I believe can be a competitive disadvantage.  It may sometimes seem harsh over here, but you have to be able to make the right decision for the company.  Otherwise you eventually put everyone's job in danger.
5 Quick Ones:
• Morning person or evening person? -Morning person. I start working 5:30AM every day and then eat breakfast together with my children before going to the office at 8AM.
• Ski or beach holiday? -I prefer both.
• Magazines or Books? -I read both magazines and books, but always in paper form.
• Swedish meatballs or Crayfish? -Crayfish.
• Midsummer or Christmas? -Midsummer.
To read more about Henrik's business visit: Boundlessnetwork.com
Mollie Silverhjelm, SACC-Austin