A post on Facebook recently read "Houston we no longer Have a problem" referring to the fact that customers can now find Swedish Pick and Mix Candy at IKEA in Houston. It is true that there is something special about the Swedish candy that Swedes miss when they live abroad. However it is not just the Swedes that appreciate the Swedish candy. American consumers have started to open up their eyes to the Swedish "Pick and Mix" concept. SACC-Texas met with Robert Engström at Candy People, the company behind the Swedish candy revolution in the US market.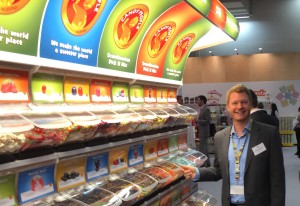 Candy People started up about 30 years ago with a local store in Malmö in the south of Sweden. Today they are the market leader in  Scandinavian confectionery distribution with thousands of products in the market worldwide.  In 2014, they became the company of the year in Malmö and recently nominated as the supplier of the year for AxFood.  Candy People sells candy in 30+ countries and has offices in Stockholm, Dubai, Shanghai, Singapore, Perth, Los Angeles and Dallas. Since entering the US market, the company has experienced tremendous growth.
Why did Candy People decide to expand to the US market?
The reason why we decided to enter the USA was that we realized that we had a concept that no one else had in the North American market.  We sell a complete pick & mix concept from the merchandising display to candy bins  to a full product assortment of 90+ candies. We import authentic Scandinavian candy directly from Sweden. We handle the entire import process to the US. This  is not a simple process and cost someone trying to handle the process by themselves thousands of dollars per shipment if not handled correctly. We facilitate the entire process for our customers through taking care of all importing, regulations, installation and delivery. We never recommend anyone to take care of the import by themselves, Importing to the USA is more or less a full- time and complicated job.
You are based in Dallas. Why Dallas?
When Candy People first entered the US market we started off with an office in New York, mostly because one of our biggest customers Sockerbit, and several others were located on the East Coast As we started to grow nationwide the need for a more centralized location grew. Today, Dallas is a great hub for us. Dallas is a centralized location with  cheap storage, access to major airports, highways and ports and a top notch pool of potential employees as we continue to grow. We also like Dallas because of all the large Swedish population in and around the city with several Swedish companies.
What is the biggest difference between running a business in Sweden and in the USA?
Sweden is great when it comes to food regulations, which has led to the highest quality products. We always market ourselves as a Scandinavian company because of the strong quality association that it gives. However, the US is a much large market providing cheaper and more efficient operations without corporate tax.
 So how do the American customers like the Swedish candy?
The American customers are crazy about Scandinvain candy! Our candy is made with real sugar and natural colors, eliminating high fructose corn syrup, trans fats, GMO´s and artificial colors, just like it is made in Scandinvia. Many American's today know about the health risk related to high fructose corn syrup, GMO's, Trans Fats and artificial coloring. We provide clean candy without all that junk. More and more businesses are showing interest in our concept and all of our customers continue to increase in order frequency and volume. Since we are eliminating high fructose corn syrup which is way too sweet, we are not killing the taste which is the case with a lot of the American produced candy. The unparalled taste is the biggest reason we are seeing such a high demand for Scandinvain candy. Our motto says it all " Tasting is Believeing."
Where do you find your customers?
Our customers are finding us. We have a very unique offering. We supply single chain candy stores to nationwide candy stores and retailers. The demand for high quality, clean candy is growing and Scandinavian candy provides just that. The demand for high quality chocolate has always been prevalent, but people are realizing they can demand that same high quality candy in gummy, licorice, sweet and sour candy as well. We also see a trend in Swedes interested in moving to the USA and  opening up candy stores selling Swedish Pick and Mix candy.
…And finally, tell us about your collaboration with IKEA!
Our collabortation with IKEA is of course very exciting for us. We are currently installing nationwide and expect to have all IKEAs installed by September. IKEA Frisco outside Dallas was the first Texas location followed by Austin and Houston. All the Texas IKEA stores are installed and doing great! Something to mention is that our Candy People retailers carry a unique assortment, including the IKEA stores and other Candy People retailers. In Dallas for instance, The Wooden Spoon and IKEA  don't sell the same assortment so buying at one Scandinavian candy retailer won't preclude you from shopping at the other.
For more information about Candy People visit: http://www.candypeople.com/
Malin Backlund, SACC-Texas