Interview with Mats Olsson, Corporate Director of Technology at Dresser Inc.
I met up with Mats Olsson at Dresser Wayne's head quarters in Austin.  Dresser Wayne is the largest division of Dresser Inc. and the area where Mats has spent most of his impressive 30 year career with the company.  Mats is now the Corporate Director of Technology but has over the years held a range of senior roles in charge of developing the company's products and markets.
The office in north Austin is buzzing with activity this Friday afternoon. People stop by to get a word in with Mats before he leaves for one of his frequent visits to subsidiaries, customers and partners around the world. This time he is destined for China and has a packed program ahead. He also hopes to get a glimpse of the ongoing world exhibition in Shanghai to see what new technologies and ideas are on display.
Quick facts about Dresser – www.dresser.com
6000 people serving more than 12,000 customers in over 100 countries.
Manufacturing and services facilities in 20 countries. Corporate Head Quarters located in Dallas, Texas
Annual sales approximately $2 billion with app. 80% of revenues related to energy infrastructure. Privately owned
Most people have never heard of Dresser before, but in fact, most of us frequently use their products whenever we stop at a gas station. Dresser Wayne is one of the two global manufacturers of fuel distribution systems. This includes the often colorful and increasingly sophisticated fuel pumps we use to fill up our cars. Sound familiar?  The fuel pumps are also accompanied by other systems such as payment systems, car wash controllers, store signage, video screens and speakers used to market snacks, drinks and car washes to customers while they are filling up.
Mat's journey with Dresser began in 1979 when he joined the Malmö subsidiary in the very south of Sweden. This part of Dresser Wayne was originally the Swedish company Ljungmans. The company dates back to 1924 and was the Scandinavian market leader in fuel dispensers. Dresser Wayne acquired Ljungmans in 1970 as part of its global growth strategy.
A defining moment for the organization in Malmö and for Mats personally occurred in 1993. The subsidiary was facing a shut down by the American headquarters after several years of losses and was stuck with an outdated production system. "I had spent the previous six years with Dresser Wayne in Zurich and was asked to come back to Sweden to either turn around or possibly close down the facility in Malmö", explains Mats.
As the new Managing Director he initiated a major turnaround and introduced things like lean manufacturing practices and flexible outsourcing. Many tough decisions had to be taken as it was necessary to streamline the entire operation. One episode was the need to reduce the size of the accounting function. "It was one of those times when a company would be much better off with a fairly good approximation of the profits rather than having an extremely accurate report of the losses" says Mats humorously when thinking back.
Within two years the Swedish organization had gone through a complete makeover and was back to profit making numbers. Today, Dresser Wayne in Malmö is the European regional headquarters and employs 300+ people. Malmö is the consolidated production site for Europe and the only location outside Austin that is also engaged in advanced product development.
But Dresser is not only about fuel distribution. The other three segments of this $2 billion enterprise are major producers of energy related products such as power generators, compressors, blowers, flow control systems, pipeline technology and much more. The common denominator for Dresser is the focus on the energy industry whether it's about oil exploration, refineries, chemical production, nuclear power or liquefied natural gas distribution.
I ask Mats about the strengths of Dresser as a company? "We have earned a strong reputation of being very responsive and ahead of the game when it comes to innovating technology and bringing new solutions to our customers" he explains ."But we are also very good at servicing our customers and make sure they reap the full benefits of our products".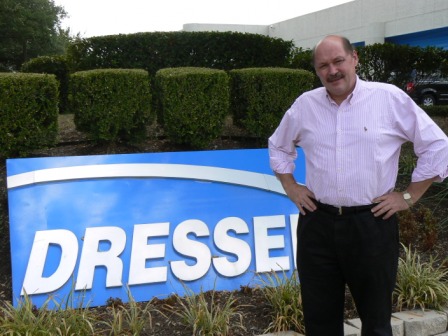 One such example was the early introduction of satellite communication to instantly beam software updates and fixes to fueling systems.  "These can be owned by a gas station chain spanning a whole region or even a country" explains Mats. "This technology makes it possible to ensure that our systems are  running without problems and that we we are able to quickly fix things if something does happen. If you consider that about 50% of all gas stations in Scandinavia are unmanned, you can imagine how this creates comfort for the people who own them. We make sure that their customers are not met with an out-of- service message at the often remote locations they serve" says Mats.
We continue to talk about his new role as Corporate Director of Technology for all business units. "It's a fun job that varies a lot from week to week but my main task is to evaluate new technologies, solutions and tools to determine how they strategically fit with our business and where to focus our resources. I'm also involved in more tactical activities and often support our business units when they need it" says Mats.
He also shares his big picture view of the energy industry and gets very excited when he continues, "What really makes me tick is the huge problem humanity faces when it comes to energy. We all know that that our current energy supply and methods are not enough to support the world's growth and we don't have all the alternatives in place to manage the situation. We need new breakthrough innovations and I have a great deal of passion for this challenge. Someone said that the energy sector is facing the same innovation and growth opportunity as the early IT industry.  I think the next 30 years will be very interesting for people who work with energy" concludes Mats.
Mats Olsson – Biography
Born in Ahus, Sweden 1954. Married to Eva and 3 children Catarina, Caroline and Peter age 29,26 and 23. MSCEE from Lund University, Sweden
1979-1986: Development Engineer with Dresser Wayne in Malmö Sweden.
1986-1992: Technical Mgr Marketing, Dresser Wayne EMEA, Zurich Switzerland.
1993-1996: Managing Director, Dresser Wayne Scandinavia, Malmö Sweden.
1996-1998: VP Engineering, Dresser Wayne North America, Austin Texas.
1998-2004: President EMEA, Dresser Wayne, Malmö Sweden.
2004-2009: Chief Technology Officer, Dresser Wayne. Austin Texas
2009-present: Corporate Director of Technology, Dresser Inc., Texas
Peter Holmertz, SACC-Texas