Fredrik, c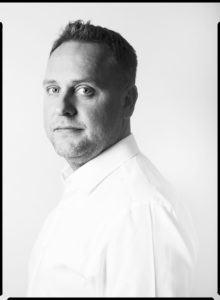 an you tell us about yourself and how you ended up in Dallas?
My background is 15+ years' experience of international sales and marketing, supporting brands developing OEM and Private label accessory solutions for a wide range of technology products within Telecom, IT, Health and CE industry as well as providing retail display solutions for smartphones, tablets, and cameras. I worked with a Swedish company, OSM, for 15 years. After a successful career at OSM HQ in Stockholm, Sweden I was offered a new position and relocated to Dallas TX in September 2007. My mission was to explore and build a strong new business platform for OSM in the US. By 2011, under leadership as Regional Head Americas, OSM Americas had grown to become the 2nd largest region of OSM Group with the single largest revenue contributing Key Account. I managed to build strategic customer relationship with customers e.g. Nokia/Microsoft, Samsung, LG, Sony Ericsson, Motorola, BlackBerry, HTC, Bose, Lenovo, HP, Asus etc). With the success in sales and trust from OSM Management I progressed through the ranks to level of VP Commercial Operations / Global Head of Sales and part of OSM Executive Management Team in 2013.
When I moved to Dallas with my family (wife and 2 kids), the plan was to stay 2-3 years, build the business, and then return to Sweden. Today, almost 10 years later I call Dallas home. We live in the M-Streets in Dallas. In 2015 I decided to leave OSM and in Sep 2015 I founded OSTROMbrands.
Tell us about your company Ostrom Brands, what do you do?
OSTROMbrands develop, market, and sell a diverse portfolio of high quality lifestyle brands. Our brand portfolio includes following brands; Le Zie, Jeanpatric, and The Roman Empire. Since the introduction 2016 focus has been on Le Zie, our Italian gourmet and kitchenware brand. Staying true to our heritage, brand values and passion for food Le Zie are proud to offer our own produced, truly handpicked, Extra Virgin Olive Oil & Flavored Olive Oil from Le Zie's farmland in Maddaloni, artisan made dry Pasta from Gragnano, Herb Mixes, and a Kitchenware line. Our target market is Specialty-, Gourmet-, and Gift-stores as well as the Corporate Gift & Incentive Market.
The inspiration and story behind Le Zie (The Aunts) came from Paolo Roberto and his aunts with roots from the town of Maddaloni in Southern Italy. The true passion for food and his strong family bond has always been a corner stone in Paolo's life.
Paolo was born and raised in Stockholm, Sweden, by his Italian father and Swedish mother. His versatile story began already during his youth as a street fighter in Stockholm, Sweden. His early life is dramatized in the 1987 Swedish movie "Stockholmsnatt". Later he found a place to develop his skills in boxing and was a successful professional fighter for ten years. During his career he fought Championship matches in 3 weight classes, WBC light middleweight, WBO middleweight and WBC welterweight. He won the WBC International welterweight and WBO Intercontinental welterweight title. His record included 33 fights with 28 wins, 4 losses, and 1 draw. After losing his WBO Inter Continental welterweight he decided to never fight professionally again. We talk about this as the birth of Le Zie!
With passion, drive, entrepreneurship, and hard work Paolo has become a successful entrepreneur and is today hosting numerous TV-shows, acting as motivational speaker, author of numerous cook books, his first cook book was best seller the year it was published in Sweden combining stories from his life and recipes from his family. He also launched his first Yoga book last Christmas. He is also the owner of 3 Italian restaurants, Pane Fresco, in Sweden (Stockholm, Göteborg, Norrköping). Paolo was also featured in some chapters of Stieg Larsson's book "The Girl Who Played With Fire" and played himself in the original movie based on the book. While running >10 successful companies in Sweden Paolo still visit his family in Maddaloni on a regular basis.
Paolo visited Dallas in January 2016, and we had a tasting event during Dallas Total Home & Gift Market. We also introduced Le Zie last summer during Fancy Food Show in New York and in San Francisco in January. In May we will begin introduction of Le Zie's EVOO at Central Market in Texas. We launch in Houston and will roll-out in 12 stores after that. OSTROMbrands exhibited at PPAI EXPO in Las Vegas and ASI Show in Dallas, where we met people within the Corporate Gift and Incentive Industry. Another venue I am exploring is direct to restaurants. I visited Maddaloni last October and took part in the olive harvest to learn more about the process and met with Paolo and his family. Learnings from this experience was great and makes a difference when talking to potential new clients.
What would you say are the opportunities and challenges here in the US for your business?
Today more consumers are driven by an intense search for authenticity in their food. They want that sense that they are getting the real deal. Le Zie by OSTROMbrands deliver superior quality gourmet products from Campania Region in southern Italy coupled with a Kitchenware line and authentic brand story that support and inspires your passion of everyday cooking. Le Zie's unique value proposition, including a strong brand story and quality line of products, brings a new dimension to to Gourmet-, Gift-, and Specialty-stores as well as the Corporate Gift & Incentive market. The challenge as a small business owner, introducing a new brand, in a new market, is to be patient and allow enough time to establish and build your business, one step at a time. Another challenge is of course the fierce competition. The key is being able to share the unique value proposition and passion for your brand and products, listen to market feedback, learn from your mistakes, network, and never ever give up.
What is the vision for the company for the next 5-10 years?
Our mission is to provide a brand experience consumers connect and relate to with passion. The vision for Le Zie is to be recognized as an authentic gourmet brand available at strategic Gourmet and Specialty store locations around US and become the number one Gourmet brand for Corporate Gift & Incentive Programs.
Finally what are your hopes for your membership in SACC-Texas?
I appreciate being able to share my story through this interview and since I moved to Dallas me and my family have met many new friends during events e.g. Lucia, Kräftskiva, Midsommar, etc, that SACC and SWEA arranged. Key note speaker events SACC-Texas is arranging is always inspiring and the networking during these events not only offer new friendship but also new business opportunities.
Special offer to SACC members
Please visit www.leziecollection.com or email fredrik@ostrombrands.com for more information about Le Zie and OSTROMbrands. SACC members get 25% discount and free shipping on orders >$100.00 placed through the webshop when using use coupon code: sacc.