In Texas, food trucks have been around for a long time and in the last few years they have become more popular. Food trucks can be found almost everywhere; from parks to outside big sport events.   In Sweden, food trucks are a fairly new concept, first starting out in the Swedish capital, Stockholm, in May 2013. The City Council there said yes to let 20 food trucks serve their food in the streets of the city over a testing period of two years. This summer, two additional large Swedish cities, Gothenburg and Malmo, followed Stockholm's lead and gave licenses to 20 and ten food trucks, respectively.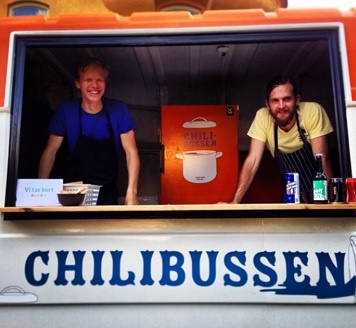 So how is it to run a food truck in Sweden? SACC-TX got in touch with Eric Dahlén and Marten Johansson the owner/operators of Chilibussen, a Stockholm-based food truck. Chilibussen serves Texas inspired food during the summers in Sweden as a complement to their office jobs during the winter. Both Eric and Martin think that the food trucks have come to Sweden to stay.
"Before, the cities have been a bit skeptical to hand out licenses, but people are really enjoying the food trucks. They are viewed as a natural and appreciated complement to other food places in the city" says Marten.
Eric and Marten started up their business in February 2013 when they first bought their food truck. But the truck, itself, needed a big renovation.
"The truck needed everything from new breaks to a kitchen and new paint, but in June the same year we were ready to hit the streets of Sodermalm in Stockholm" says Eric.
Both Eric and Marten think that the people in Stockholm have had a very positive attitude to both their truck and the new phenomenon with food trucks. This summer they even took their business outside the city of Stockholm and visited the music festival Way Out West in Gothenburg.
"Last summer we had quite a hectic year.  We served lunch in the streets of Stockholm, visited farmers markets, a couple of festivals and worked with catering where we took the truck to customer's private house parties. This year we decided to take it a bit easier and focused on festivals like Way Out West and Arts in Stockholm. We are planning for the same concept next year. So if you are in Sweden and visiting the festivals- please come and visit us as well!" says Eric.
So what can you order from Chilibussen?
"Texas Chili is our signature dish and in addition we try to vary our menu. We always try to have a Truck burger, tacos made with beans and mushrooms and a Triple Bean Chili on the menu though" says Marten

A very Tex- Mex inspired menu then?
"Yes, we are both big fans of the slow cooking methods used in preparing Southern and Mexican food. Slow cooking isn't really the first you think about when it comes to fast food, but for us it was the perfect combo. We knew that our love of slow-cooked Southern and Mexican foods would be the inspiration for our business" says Marten
Although Eric and Marten have a business dedicated to serving Texas-style food, neither have been to Texas.  Mentally, they are in a Texas state of mind and will definitely try to make a trip over in the future.
"Maybe one day we can come over and cook our chili in its right environment. To cook on a real Texas ranch would be a dream for us. Is that something you can tell your readers?" asks Eric. and continues:
"If any of your readers ever want to invite two Swedes to come over and cook their Texas Chili for a gathering or a party we will be there straight ahead!"
Short Facts Chilibussen
Founders: Eric Dahlén and Marten Johansson, both 28 years old.
Education and jobs besides the food truck: Eric has a Master of Science in Engineering and works with Community and Traffic Planning.  Marten has a background as a chef and also has a Bachelor of Arts in Geography. Marten is working for the Swedish Society for Nature Conservation (SSNC) during this autumn.
Malin Backlund, SACC-Texas